We have some great news – Centauri now connects to our well established StarLab PC application!
What does it mean exactly?
Similar advanced features as can be performed on-board the feature rich Centauri, are now available for your convenience remotely on your PC.
Full-fledged advanced laser power/energy meter
The StarLab application together with a Centauri meter turns your PC into a full-fledged advanced laser power/energy meter at your fingertips on your PC keyboard..
StarLab provides graphic display of measurements in the form of line plots, histograms, bar charts, and simulated analog needles; measurements can be displayed separately or in multiple data sets on one graph.
Advanced measurement processing functions include: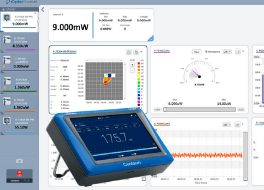 Conditioning of measurements (average, offset subtraction, scale factor)
Power / energy density
Pass / fail limits
Multichannel comparisons
User-defined mathematical equations
What's in it for you?
For instance, when using a Dual channel Centauri, StarLab enables the measurement from each sensors to be displayed and logged (on the PC) to provide temporal graphs of each channels. The time stamps of each channel are synchronized, so a user may tell how laser sources perform in time relative to each other. Starlab allows the use of mathematical functions between each sensor measurement (which, by the way, you can also do separately on-board the Centauri).