Not everyone knows this, but almost all Ophir power and energy sensors can be used with four standard fiber adapters:
Of course, any fiber can be measured by an Ophir sensor by taking a free-space measurement – placing the fiber tip a few mm or cm from the sensor and letting the laser beam continue to the sensor.
However, in many cases it is convenient to use a fiber adapter to connect to a measuring device.
If that's the case, here's what you'll want to do. 
Step 1
First, check that your sensor is compatible.  Most standard sensors are compatible, but a few specialty ones and sensors with internal diffusers are not able to be used with a fiber adapter.
Just check the sensor's spec in the Ophir catalog and you should see a line called "Fiber Adapters Available," just above the version line at the bottom of the spec: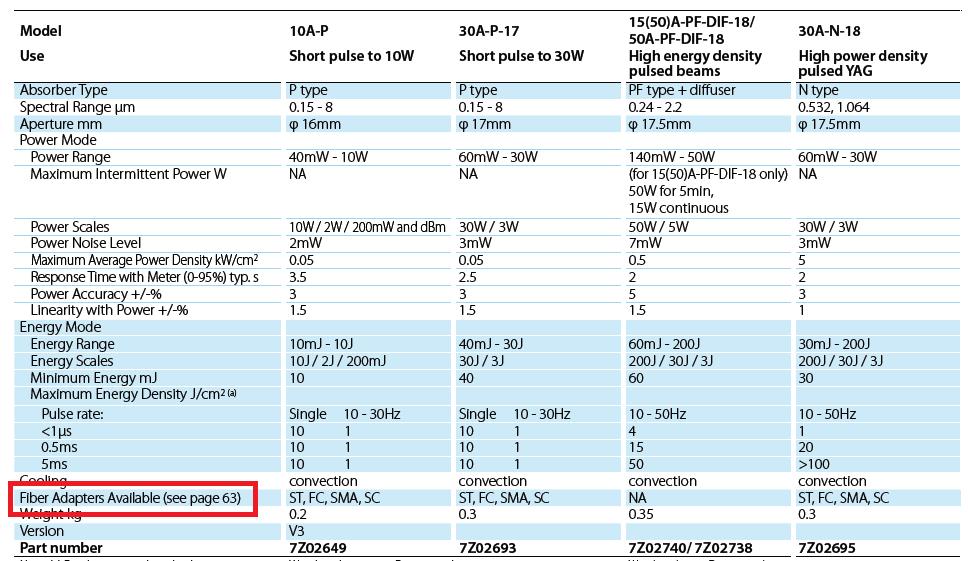 Step 2
Find the mounting bracket.  Each group of sensors has one mounting bracket accessory which works with all of the above standard fiber adapters.  You'll see in the spec a page number where you can find the appropriate bracket.
Step 3
Aside from the mounting bracket, you will also need the adapter itself.  Some sensors don't need a bracket (as mentioned on the accessory page), but most do.
The four fiber adapter available for most sensors are:
| | |
| --- | --- |
| Fiber Adapter Type | P/N |
| SMA | 1G01236A |
| FC | 7Z08229 |
| ST | 7Z08226 |
| SC | 7Z08227 |
What if your sensor doesn't have an adapter available?
Some sensors may say, "Consult Ophir," in which case we'll have to see if there's a custom solution available.  These are usually high power sensors that have mounting holes, so the functionality exists, but Ophir may not have an off-the-shelf mounting bracket.
Other sensors might be fundamentally incompatible with fiber input or fiber bracket assembly.  Again, contact your Ophir rep with your particular situation, since you never know when there could be a simple solution.
Now it's your turn:
Your homework for this blog is to add a comment saying which fiber type you use.  I'm curious to see which are most popular and of course I want to know that we're serving our customers as best as we can.  (If we only offer fiber X and you all use fiber Y, we'd be letting you down…)
Thanks!
Creative commons image via Dave Lundy