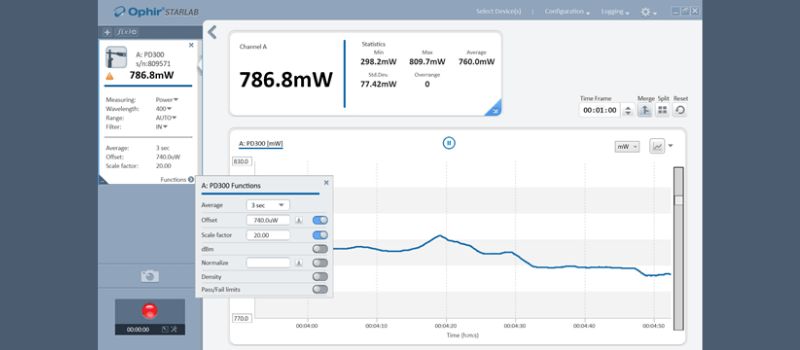 Logging Your Laser Power Measurements on a PC With StarLab Software
Log data from multiple sensors
Simultaneously record measurements from multiple laser power sensors via the StarLab software for later review and analysis, or even just for record-keeping.
Time-synched measurements from multiple sensors are logged to a single log file. A timestamp is recorded in the log file for each measurement received from individual sensors.
A choice of logging options
In the StarLab logging setup you can easily select to either: –
log just one screen of data
specify the duration of the log with a timeout of up to almost 500 hours – or unlimited time until manually stopped
set the number of measurements to be taken at up to 10 million readings – or unlimited number of measurements until manually stopped.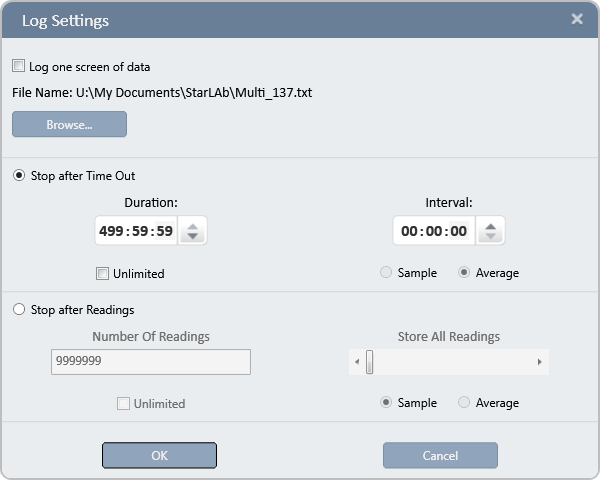 See video https://www.ophiropt.com/laser–measurement/knowledge-center/video/12067
Log Notes
You can add a free text annotation via StarLab into the log file as a personalized identifying tag – such as 'Weld laser test 1' for example, either before starting to record a log, or later on to a previously recorded log fileץ
Recording a Log – The Big Red Button
Beginning to record a log in StarLab is initiated with an easily accessed intuitive 'record' red button in the bottom corner of the StarLab screen.

Log Viewer
Log files may be viewed graphically in the StarLab application's Log Viewer for review and analysis.
The Log Viewer window displays recoded measurements in the same format as the 'live' measurement screen, making for a familiar graphic experience, and allowing you to zoom/pan the displayed graph of logged measurements.
Transfer log files from meters
Occasionally it is not possible to measure a laser system directly using a computer and StarLab. This can be because the laser system is in a controlled environment where a computer is unable to be installed. In such a case you might use one of the standalone Ophir handheld meters. Some of these meters also have the ability to log measurements into a file.
These logged files can be later transferred to a computer and can be viewed and analysed with the StarLab log viewer.
View Log files as Text
Logged files can be viewed as text files, via NotePad for instance, or as a spreadsheet in Excel.
The log file has a header containing basic info about the measurement setup and sensors used and their set parameters, settings that were in use, a summary of measurement statistics for each sensor logged, and the recorded measurement data points each with its timestamp. (The timestamp can be set to an Excel friendly format).