A few months ago we posted a blog "monitoring systems with multiple lasers " showing how to measure multiple laser beams at once and analyze the data using Ophir's StarLab software.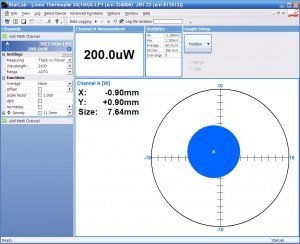 Ophir has now come out with a new version of StarLab supporting Ophir's new  BeamTrack sensors. These sensors measure beam size and position as well as beam power. StarLab 2.30 provides a graph that displays the size and position of the measured beams – very useful for alignment as well as tracking changes in beam position. In fact, now the released StarLab 2.30 provides a special graph that tracks the stability of the laser beam so any drift in the beam can easily be seen.
For a full tutorial and explanation of how to use StarLab click this link: StarLab demonstration
You might also like to read:
 The new Ophir BeamTrack sensor- You won't believe how useful it is!
Use StarLab to enhance your system efficiency
Share this:
CO2DivergentExcimerFiber LaserHigh EnergyHigh PowerHigh Power DensityIndustrialIRLarge BeamLaser DiodeLEDLow PowerMedicalPower MeasurementPulsedResearchSmall BeamTHzUVVisible LightYAG