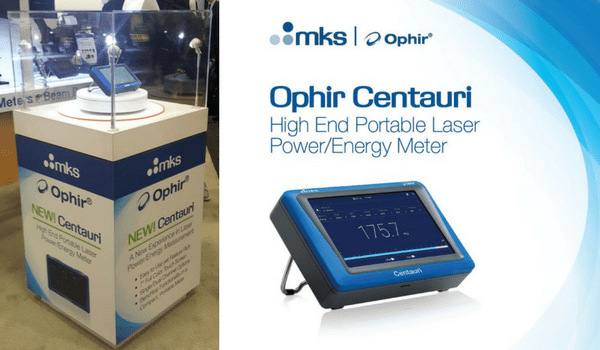 MKS Announces Ophir® Centauri, Compact Touch-Screen Laser Power/Energy Meter
San Francisco, CA – January 30, 2018 – MKS Instruments, Inc. (NASDAQ: MKSI), a global provider of technologies that enable advanced processes and improve productivity, has announced the Ophir® Centauri at Photonics West 2018, a compact, portable laser power / energy meter for precise measurements of laser performance over time.
The Centauri features a large, full-color, seven-inch touch-screen for visual review of data using a wide range of graphical display formats, such as Digital with Bargraph, Pulse Chart, and Real Time Statistics Displays. Advanced math functions include Density, Scale Factor, and Normalize Against Baseline. Available in single and dual-channel versions, the Centauri is compatible with all standard Ophir thermal, photodiode, and pyroelectric sensors, including the award-winning BeamTrack power / position / size sensors.