Andover, MA – September 11, 2019 – MKS Instruments, Inc. (NASDAQ: MKSI), a global provider of technologies that enable advanced processes and improve productivity, has announced the Ophir® L2000W-PF-120 Laser Power/Energy Sensor, a water-cooled sensor for measuring large pulsed lasers.
Designed for high power lasers
The thermal sensor measures powers from 1W to 2000W and energies from 6J to 6000J over the spectral range of 0.3µm to 2.2µm. The L2000W-PF-120 features a large 120mm aperture to accommodate high energy densities and short pulses.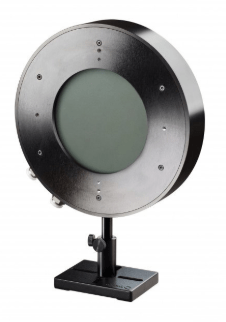 A fast, 7 sec response time balances the need to measure fast drifts and instabilities with the ability to handle high energy levels. The L2000-PF-120 laser sensor is designed for use with large diameter pulsed ns or ps lasers. Such short pulses can induce optical damage. To address this, the sensor features a PF type volume absorber that is able to withstand higher average energies and energy densities, up to 3J/cm2 .
Read all about L2000W-PF-120 Laser Power/Energy Sensor here