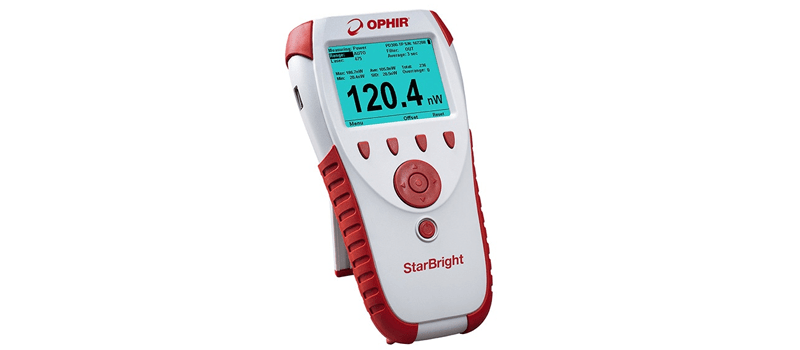 StarBright: Advanced, Yet Easy-to-Use Laser Power Meter
In order to measure your laser, you need two things:
Thing One: A sensor, to convert photonic power into an electrical signal.
Thing Two: A meter, to measure the electrical signal, digitize it, and display the results.
(Actually, the meter is a little more than that as it has two-way communication.  It can also be used to control the wavelength and range, which affect the reading's accuracy.)
The sensor and meter combination is totally "plug-and-play," so you can use the same meter for basically any of our sensors, and vice versa.  (There are a few exceptions, typically with regards to old or non-standard sensors.)
When choosing a sensor, you probably already know the drill.  It's mostly a question of what laser parameters you need to measure.  Low power, high power?  Pulsed or CW?  UV, IR, THz?  You can use our sensor finder for a big head start on your search for the sensor.
But how about a meter?  We have fewer meters than sensors (only about a dozen, including PC interfaces), so it's a little easier to choose from.  But it has nothing to do with your laser.
Since the meters are plug-and-play, meter selection is a completely separate question, and it really comes down to your own preferences.
Size – are you looking for a handheld or tabletop display?]
Features – color or black/white?  Do you need data logging?  What graph and statistical options do you want?  We recently came out with two new meters: StarLite and StarBright.
Both were intended to bring our old meters (some of which have around since the '90s!) up to speed and take care of some compatibility issues.  But that's basically where the comparison ends.
StarLite was specifically designed as a basic power meter.  There's no logging (except with optional USB), and only some advanced options.  Nevertheless, if you don't need those functions, this low-cost option might be a wise decision.
StarBright, on the other hand, was intended to be a newer and better version of the popular Nova II and Vega meters.  Not only does the StarBright have all the features of Vega and more, but it excels in usability.  The screen is uncluttered and each option has an info box to explain it.  StarBright also has multiple logging options, including computer logging via USB and RS232, or on-board logging directly to a USB thumb drive.
Find out more in this 3-minute intro video:
Or check out all the features in this 12-minute tutorial: