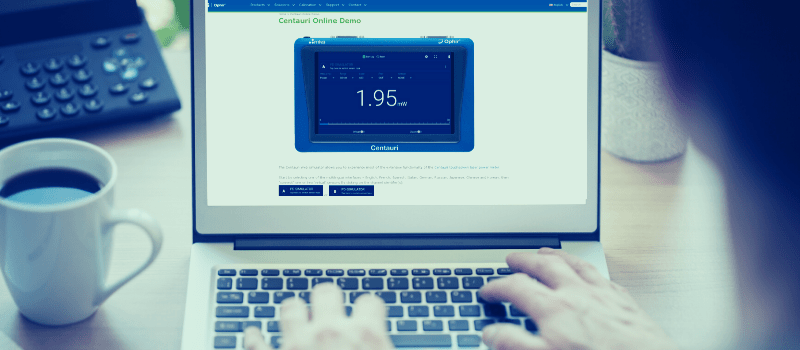 Detect Missed Pulses with Centauri External Triggering
If you are having problems with the performance of your pulsed laser and suspect that it might occasionally not be firing each and every pulse, then the Centauri power meter can help determine, and log, if and when there are indeed any 'missed pulses'.
Centauri can be configured to detect missed pulses when used together with a pyroelectric energy sensor and external triggering!
Here's the basic idea; if a sync output electrical signal is provided from the laser controller and connected to Centauri's external trigger input, but no matching laser pulse is detected by the sensor, we can set up Centauri to note in a recorded log file each event of a missed pulse.

The External Trigger of the Centauri can be set from the Instrument I/O Settings screen > External Trigger Settings, to look for either the Rising Edge or Falling Edge of the provided trigger signal.
We can then tell Centauri to expect a laser pulse during a defined time window from the sync pulse rising or falling edge. If no laser pulse is detected by the sensor during this time window, then Centauri records a missed pulse.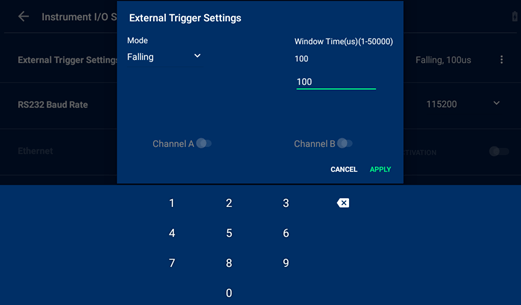 Missed pulses will then be reported when recording measurements in a log file, as shown in the example below: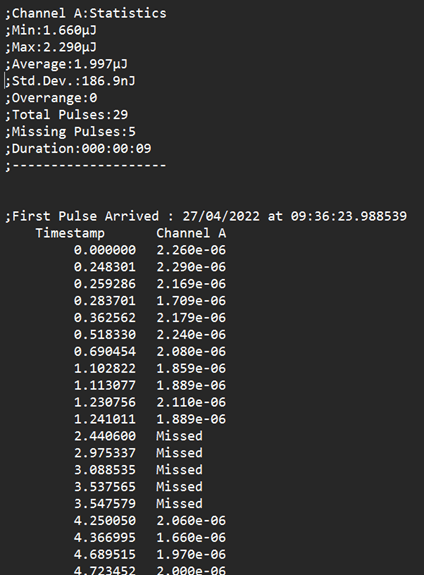 (Conversely, if the sensor detects a laser pulse but we have no matching sync pulse we can also have Centauri lockout and ignore the detected laser pulse and assume it to have been spurious or noise…)