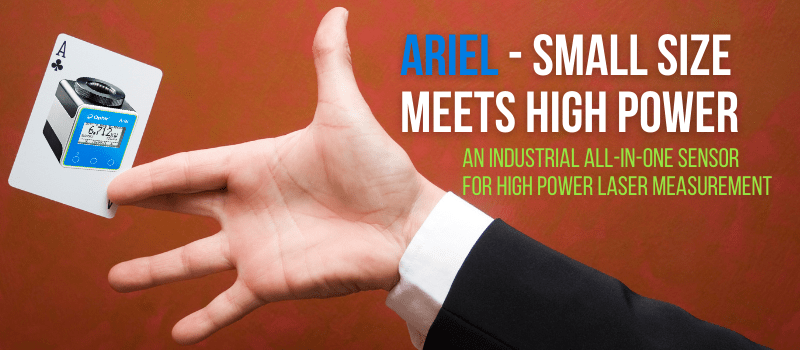 Winning the Industrial Laser Power Measurement Challenge With Ophir's New Ariel
Have you also used the time in the lockdown to play cards? Well, our new ARIEL measurement device has about the base size of a deck of cards and fits in the palm of your hand. And, if you look at the features of ARIEL – they playfully solve many issues in industrial power measurement:
✨ Compact, robust stand-alone device – fits in smallest spaces even in harsh industrial environments
✨ Fast measurement time of only 3 s – saves valuable time in sensitive processes
✨ No need for power cable or cooling – measurements can be taken even in enclosed chambers
✨ Measures power from short exposure ("Power from Pulse" mode) to up to 8 kW – easy measurement in high power laser processes
✨ Continuous power measurement up to 500 W for 20s – offers maximum flexibility in usage
✨Withstands high power densities – measures even small beams with high power
✨Offers different wavelength ranges – suits many applications
So, How Does the ARIEL Work?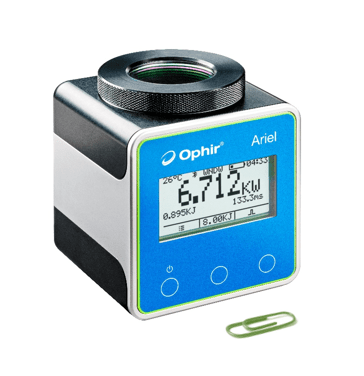 In order to measure your high power laser, you can just place the device in the beam. The ARIEL automatically detects the laser pulse using a photodiode, so you don't even have to start the measurement.
As you can control the measurement remotely via Bluetooth, you can be located outside the laser area. Due to its integrated long-life battery, there is no need for additional cables – a big plus when measuring in enclosed applications.
Only three seconds later the laser power is shown either on the built-in display, or will be transmitted wirelessly to your mobile device or laptop via Bluetooth 5. Data can additionally be stored in the internal memory or externally by using the USB-C interface. You can easily perform multiple measurement with consecutive pulses as the ARIEL has a high thermal capacity of 14 kJ.
Do you want to have a strong card in you hands? Check out our website or even better: Try ARIEL yourself – looking forward to hearing from you!