Lasers and IPLs (intense pulsed light) are used for a wide variety of aesthetic treatments. Here is an overview (summarized from article by Burt Mooney) of some of the therapies and the types of lasers used for each. The types of lasers used changes over time as new technologies evolve.
Treatments and lasers used
1. Hair removal
Nd:YAG lasers and 810 nm diode lasers are the main lasers used for hair removal but the most popular hair removal technique right now is not with lasers but with IPLs since they are cheaper, can be used on a wider range of skin types and with them, one can treat larger areas at a time.
2. Skin resurfacing, skin rejuvenation
Laser resurfacing, also known as laser peel and laser vaporization, is very new and very popular. It can be used against facial wrinkles, acne scars and other skin blemishes. A very wide range of wavelengths is used: from Erbium YAG at 2940 nm to CO2 lasers at 10,600 nm. One way to be precise in this treatment is to use a scanner which ensures the laser is only removing one layer of skin at a time. Another option is to use the two wavelengths mixed together since the CO2 laser penetrates deeper into the skin than the Erbium laser.
3. Tattoo removal
Today, Q-switched and Nd:YAG lasers at 1064 nm and 532 nm and Alexandrite at 755 nm are used together in order to cover the full spectrum of colors in tattoos. The heat generated from the beam breaks down the ink from the tattoo. The small ink particles are absorbed by the immune system.
4. Treatment of pigmented lesions
Pulsed lasers work best in this treatment. There are many lasers used depending on the type of lesion. The list includes: Nd:YAG at 1064 nm and doubled at 532 nm, 755 nm Alexandrite, pulsed dye at 510 nm, Krypton at 520-530 nm, and Copper Vapor at 511 nm.
5. Treatment of vascular lesions
There are many different kinds of vascular lesions but they all include blood vessels. Almost none of these lesions are dangerous which makes laser treatment cosmetic. The main lasers (and light sources) used today for treatment are pulsed dye lasers in the 585-595 nm range, pulsed doubled Nd:YAG at 1064 nm and 532 nm, and now IPLs.
Monitoring the system
For invasive lasers (those that function deeper than the skin like CO2 lasers), the FDA requires internal and external power/energy monitoring systems. But this is not the case for noninvasive lasers (mainly lasers working on the skin). So, with noninvasive lasers and with IPLs, it is up to the manufacturers to create a system that internally monitors the systems. And then it is up to the end user to decide if an external measuring system is still necessary. Usually you'll have a field service engineer come "calibrate" your laser but you might decide that this isn't giving you enough information about the laser on a regular basis.
With an external measurement tool you will be able to measure, among other things, total energy and fluence (in J/cm²). You'll be able to see that the settings of your laser or IPL correlate with the actual output thereby keeping you informed of your application's performance, potentially alleviating expensive service calls.
Summary
The field of cosmetic laser and light treatment is very big and continues to grow. It's of utmost importance, if you are working in this industry, to keep up to date with the latest technology in order to decide if you are offering your clients the best treatment possible. It is also worth considering if you want to use an external energy measurement device to monitor the actual output of your laser or IPL source.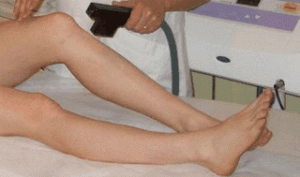 You might also like to read: Laser Measurement in the Medical Industry
Please feel free to comment and add things you have on your list
Share this:
CO2DivergentEnergy SensorsExcimerFiber LaserHigh EnergyHigh PowerHigh Power DensityIRLarge BeamLaser DiodeLEDLow PowerMedicalMetersOEMPC InterfacesPower MeasurementPower SensorsPulsedSmall BeamSoftware (Power Measurement)THzUVVisible LightYAG