A few months ago we posted a blog with several examples of cases where beam profilers helped manufactures and companies. Here are a few examples where a beam profiler was used to indicate and repair lasers that malfunctioned in the medical industry.  
CO2 Laser Waveguide Medical Delivery System
Figure 1 shows the output of a flexible waveguide delivery system for CO2 lasers in a medical application. When the waveguide is held straight or only bent slightly, the beam is quite uniform. Figure 1 shows the beam pattern with slight bending of the waveguide. Notice that the beam is broken into many lobes and hot spots. However, these hot spots move around very rapidly with only slight bending of the waveguide delivery system, and thus a fairly uniform average energy is applied to the patient. Figure 2, however, shows the same waveguide with heavy waveguide bending. Now the beam has become much less uniformly disbursed, and the hot spots are coming together and leaving cold spots with large areas of low energy. In this case the motion did not make up for the poor distribution of energy, and uneven processing was performed with the laser. The hot spots became too concentrated to obtain uniform delivery to the patient.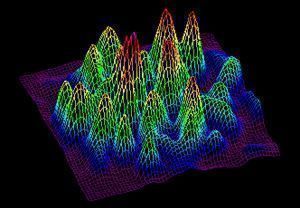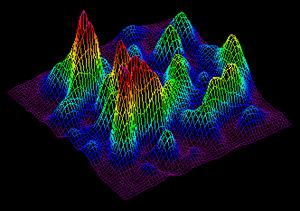 Tissue welding- medical research
A CW Erbium YAG laser in the 1.5mm range was used in a medical experiment for tissue welding. It was found that with exactly the right energy density at this wavelength, animal tissue could be welded together. Figure 5 shows the output of this beam with poor alignment of the delivery system. Using this beam the tissue welds were very poor, and failed under a very small amount of stress. Figure 6 shows the same laser with the delivery system properly aligned. In this case the beam is a nice uniform flat top, and it gave excellent performance.
In laboratory experiments this laser was used to weld together a severed vein in a mouse's leg. It was determined that using a well aligned beam, the vein could be welded such that the weld area was as strong as the rest of the vein. With poor alignment of the laser, the veins ruptured very quickly undervery low pressure.
You might also like to read: Laser Measurement in the Medical Industry
Share this:
Beam ProfilingBeamWatchCamerasCO2DivergentExcimerFiber LaserFocal SpotHigh EnergyHigh PowerHigh Power DensityIRLarge BeamLaser DiodeLEDLow PowerM-SquaredMedicalModeCheckNear FieldPulsedScanning SlitSmall BeamSoftware (Power Measurement)THzUVVisible LightYAG